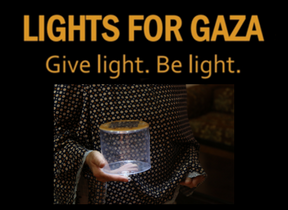 During Spring 2017 CMEP partnered with Rebuilding Alliance to send solar powered Luci Lights into Gaza. Individuals like you raised enough funds to send 570 Luci Lights to people in Gaza. Thank you to everyone who participated!!

But Lights for Gaza has had impact beyond the Luci Lights. For each of those 570 solar powered lights sent to Gaza, CMEP committed to sending one individual to advocate for Gaza with congressional offices.

If you would would like to participate in these meetings, please contact CMEP's Director of Advocacy and Government Affairs Kyle Cristofalo at info@cmep.org and use the subject line: Lights for Gaza Hill Meetings.

While the official campaign has ended, groups or individuals interested in sending light to Gaza and supporting CMEP's Gaza advocacy may still make contributions here.

Be sure to check out CMEP's resources on Gaza!