Corinne Whitlatch: A Vision for Peace & Justice
What does it mean to work for peace and justice? It means to persist in hope, in faith and steadfast in our prayers and actions. Over the last three and a half decades, Churches for Middle East Peace (CMEP) has served as a spiritual home for those embracing the call for justice in the Middle East and has mobilized thousands of individuals to embrace a more holistic understanding of the Israeli/Palestinian conflict and call for an end to violence in the Middle East. None of this would have been possible without the inspiring vision and commitment of CMEP's Founding Director, Corinne Whitlatch.
Before her time with CMEP, Corrine started her journey at American Friends Service Committee (AFSC) working for the Middle East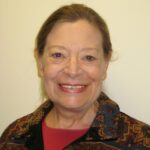 Peace education program in 1978 where she toured the states with Israeli and Palestinian peace activists to talk about coexistence and elevating the voices of both peoples. After her time with AFSC ended six years later, Corrine decided to move to Washington D.C and continue working on the Middle East. After six months, she found a job with the American-Israel Council for Israeli-Palestinian Peace. During this time, the National Council of Churches had organized members to compose a Middle East group and after a year, hired Corrine part-time as the Middle East Task Force Coordinator. After a year with both organizations, CMEP received funding to hire her full time as the Founding Director. The goal was to form a coalition of church bodies who would jointly come together to form a common advocacy message around the region and to do so, she worked diligently to expand the coalition to incorporate more Christian denominations for a more comprehensive and formalized working group. With a background in Political Science and History, Corinne's leadership shaped the foundations of the organization that is known today.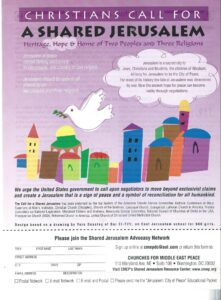 Focusing on the Holy Land and the broader Middle East, the organization began to address key issues, including arms control, humanitarian issues, and human rights. Wanting to make an impact, Corrine was keen on shifting the organizations objective from internal conversations on Israel-Palestine towards  congressional advocacy and action. In order to mobilize people effectively, the group published many guide handbooks on the congressional process and how to set the proper tone for Middle East Advocacy, including denominational advocacy efforts to meet with members of Congress through a regional day called "Call on Congress". They also published booklets on economic reform and human rights law in the broader Middle East. CMEP also sought to unify the Christian voice towards a shared Jerusalem for two peoples and three religions, which still remains a key issue.  In order to expand their mobilization, they published ads that churches could sign up to be apart of advocacy and began to build partnerships with individual churches to have a special role in strengthening their work with their own congregations. Under her leadership, CMEP saw exponential growth and in 2001, started to focus on grassroots advocacy, amplifying the voices of member communions, Palestinian Christians, and other communities working for peace in the region. CMEP was the first of its kind as a group mobilizing the Christian voice towards a just peace at a time when advocacy around the topic was tense and a two-state solution was not yet part of the discussion.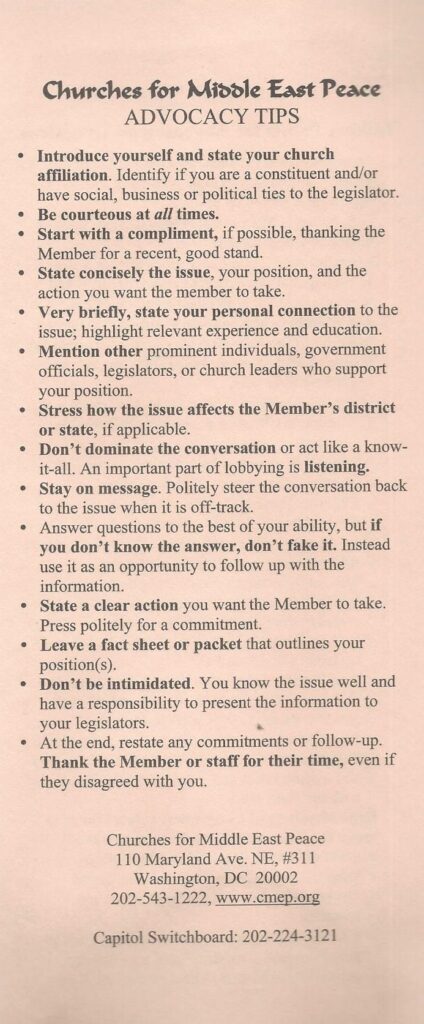 Outside of her advocacy work, Corrine's passion for the Middle East shines through her intricate glass work that incorporates  shards and artifacts gathered on her travels across the region. In 1998, Corrine took a sabbatical to spend two months in Bethlehem teaching women and men to make new items for the craft market using broken window glass, bottles, and scrap from the glass-blowers of Hebron. Teaching two classes a day, five days a week, she was motivated to help local Palestinians strengthen their own institutions and civil society through cultural enrichment. Those who took her classes were elated to learn the craft, which helped women harness their confidence and empowerment through using power tools like soldering irons, glass cutters, and hammers- tools stereotypically only used by men. One of her fondest memories from her classes was of a woman who went on to teach her husband the craft and later founded their own business, finding success through the Lutheran European church markets. Corinne still continues to convey powerful stories from the Middle East with her incredible glasswork. Stated in her Fellowship proposal to Radcliff in 1984 before she moved to D.C, Corrine said, "these limitations of verbal expression for both presenter and receiver have led me to consider the capabilities and possibilities of visual expression and visual comprehension of both the emotional and rational aspects of components of Middle East culture and tensions and their relationships."
Corrine retired as the Founding Director in 2007 and still maintains hope that CMEP's work will contribute to a just resolution of the Israeli-Palestinian conflict. Her dedication to peace in the region has been paramount in CMEP's accomplishments over the last thirty-five years. As the realities on the ground continue to worsen, CMEP's diligence in pursuing a just peace provides hope towards a brighter future for all people of the Holy Land and Middle East.
God of the Universe, we thank you for the work of those committed to peace and justice in the Holy Land. We pray that you would inspire future generations to continue this important task and bless them with persistent hope in the midst of conflict to continue their work.
Amen.
---
Please join us this June 23-25th, 2019 in Washington, D.C. at CMEP's Advocacy Summit Persistent Hope: 35 Years of CMEP to hear from Corinne and other incredible speakers dedicated to a better future for the Middle East.
---
This story was written by Jessica Hill, an Outreach Coordinator at Churches for Middle East Peace (CMEP).
CMEP is very thankful for the writers who contribute Spiritual Resources. However, CMEP does not necessarily agree with all the positions of our writers, and they do not speak on CMEP's behalf.