Dr. Izzeldin Abuelaish: Bringing "A Heavy Dose of Hope"
Ten years ago, Dr. Izzeldin Abuelaish lost three daughters, Bessan, Mayar, and Aya, and one niece, Noor, to an Israeli tank shelling of his home in Gaza. It happened just before he was scheduled to do a phone interview on an Israeli TV station, which then broadcasted his grief and cry for help in the wake of horrific violence.
Yet Abuelaish never gave up hope. Instead he committed to peacemaking, writing the bestseller I Shall Not Hate: A Gaza Doctor's Journey on the Road to Peace and Human Dignity, which has been translated into 23 languages. Abuelaish, a Palestinian Canadian physician and human rights activist, is an associate professor at the University of Toronto Dalla Lana School for Public Health, as well as the founder and president of the Daughters for Life Foundation. He has been nominated for the Nobel Peace Prize five times, and was the first to receive the Mahatma Gandhi Peace Award of Canada. The Belgian Parliament named him the "Martin Luther King of the Middle East".

"As long as we are living, there is hope," Abuelaish says. "Hope is not a word. It's an action, and we need to believe in it, and to have faith."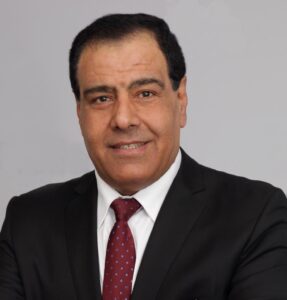 Abuelaish shares that his Muslim faith has helped him overcome the challenges in his life. The combination of faith, hope, and action is key, he emphasizes. "What makes evil flourish is for good people to do nothing, to sit there thinking they're protected," Abuelaish says. "I say, no, you need to take action, you need to be proactive and do more."
Abuelaish grew up in the Jabalia Refugee Camp in the Gaza Strip, and he went on to become the first Palestinian doctor on staff at an Israeli hospital, where he delivered babies for both Israeli and Palestinian families. He believes doctors are peacemakers, given their profession's moral doctrine.
"Medicine is a very hopeful profession," Abuelaish says. "As long as the patient is still alive, there is hope. But we need to ask why the patient is not improving and what we need to do to improve the patient's health. We need to try, and not give up hope."
Abuelaish has received fourteen honorary doctorate degrees and a multitude of awards. He's been named one of the Top 25 Canadian immigrants, 500 Most Powerful Arabs, and 500 Most Influential Muslims. His education includes studying medicine at the University of Cairo; studying obstetrics and gynecology in Saudi Arabia with the University of London; completing specialty training in Israel, Italy, and Belgium; and earning his master's in public health at Harvard University. Among his other national and international awards are The Order of Ontario, The Meritorious Service Cross, and the Queen Elizabeth II Diamond Jubilee Medal, and The Governor General's Medallion.
Former President Jimmy Carter has praised Abuelaish's book I Shall Not Hate, saying, "In this book, Dr. Abuelaish has expressed a remarkable commitment to forgiveness and reconciliation that describes the foundation for a permanent peace in the Holy Land."
Upon nominating Abuelaish for the 2016 Nobel Peace Prize, Mr. Jean Marc Delizee of the Belgian Parliament said, "Our world has more than ever need peace ambassadors such as him, of men and women capable of building bridges and links between people and between peoples."
In 2010, Abuelaish founded the Daughters for Life Foundation to provide scholarships, awards, and educational opportunities for young Middle Eastern women. Since then, 53 young women have been selected to become Daughters for Life scholars out of hundreds of applicants.
"I see the hope really in the future generations, in the children who are the future, in particular the young women," Abuelaish says. "We spread hope in the Daughters for Life Foundation. I fully believe in those women and peacebuilding. There is no peace without women."
In an excerpt from his book, Abuelaish writes that "we cannot allow (tragedy) to control and defeat us." Rather, he dreams of a future Middle East where Israelis and Palestinians can live in peaceful coexistence. "What we need is to believe in our own ability to lift ourselves up out of this quagmire that threatens to choke all of us," he writes. "We need a heavy dose of hope."
As a doctor, he approaches the Israeli-Palestinian conflict seeking to understand the causes, trying to make an accurate diagnosis of the suffering. He recognizes that the fate of Israelis and Palestinians is linked and interdependent, each affected by the other's future. "We want to seek freedom for all," Abuelaish says. "Israelis are not free when Palestinians are not free."
Whether that's a one-state or two-state solution isn't as significant to him, but what he says matters is that Israelis and Palestinians live jointly as equal neighbors.
"I am hopeful that the Israeli government and the international community will understand the fact that the Palestinians have the right to live in a free state side-by-side with Israeli people and to live as neighbors with Israeli citizens," Abuelaish says. "This is the only guarantee for long-lasting peace."
Lord, we pray that you would give us the courage to persistently hope even in the face of violence and tragedy. We pray for your guidance and wisdom for all of your people who are working steadfastly to make peace. Please bring an end to this suffering and an end to this conflict, with the presence of your peace and justice.
Amen.
Dr. Abuelaish is one of the keynote speakers at our June advocacy summit Persistent Hope. Hear from him and other incredible speakers in Washington, D.C., June 23-25.
Register today
Cat Knarr is a race and religion writer from Chicago. She had the opportunity to travel to Palestine and meet her grandfather's family for the first time this past year.