Churches Against Annexation
Israel is considering whether to annex large parts of the West Bank as early as July 1, with the U.S. government supporting and coordinating the annexation. What does this mean? How will this impact the daily lives of Palestinians and the prospect for peace?
Read more and scroll down for opportunities to get involved.
Under President Trump's "Peace to Prosperity" plan, Israel would annex some 30 percent of the West Bank, then negotiate with Palestinians about the future of the rest if they meet various criteria set by Israel and the U.S.
Specifically, Israel would annex all or part of Area C, some 60 percent of the West Bank, while leaving Areas A and B to Palestinians. The peace process since Oslo set up an Area A of major Palestinian cities, Area B of smaller Palestinian towns, and Area C as mostly Palestinian villages and farmland, but also Israel's settlements and military bases.
Without that contiguity, without any link to the outside world save through Israel, and without the other 60 percent of their land, this vast majority of West Bank Palestinians would be condemned to destitution. Eventual statehood for those millions is not guaranteed in Trump's plan or Israel's, and it would be a failed state economically anyway.
The far fewer 10-15 percent of West Bank Palestinians now living in Area C, still hundreds of thousands, would have other problems. Domestic Israeli law would allow broader confiscation of their lands, much like land has been confiscated in annexed East Jerusalem. It is unclear whether Israel would offer them citizenship, but with or without it they would be discriminated against as the Arab citizens of Israel, and permanent residents in East Jerusalem, already are.
Area C annexation is not a viable or just solution to the Israeli-Palestinian conflict. Israel's settlers would certainly gain more control over their own lives. Palestinians would have even less control than they have now. Their social, economic and cultural ties would be broken up, and movement between Palestinian areas would become even more difficult than today. Oppression would be the certainty for West Bank Palestinians, as Israelis keep control of many aspects of their lives whether annexed inside Israel or left outside Israel (as in Gaza).

CMEP and many other groups are asking supporters to oppose this prescription for violence and oppression. The House has passed a resolution against U.S. support for annexation. CMEP member denominations, House members and Senate members have each written open letters opposing, as have 127 British MPs. Now it is time for our Churches to rise up. Click the button below to email your members of Congress.
Tell Congress: Say No to Annexation

Palestinian Voices: Annexation and its impact on the Christian Community in Israel/Palestine
For this first webinar, we were thrilled to hear from Rev. Isaac and Father Khader, who recently co-authored a powerful op-ed in Haaretz on the devastating impact annexation will have for the future of the Christian community in Palestine. Learn more about how Christian leaders in Palestine are responding to the possibility of annexation.
Why should Christians in the pews care about annexation and Palestinian human rights?
Hear from Rev. Shannon Jammal-Hollemans of the Christian Reformed Church and Rev. David Andrews, of The Episcopal Church, on why it is critical for Christians to care about the situation in Israel-Palestine, especially now with annexation looming.
Christian Leader letter to Republican and Democratic National Committees Urging Changes to Israel/Palestine section of Party Platforms, Churches for Middle East Peace (CMEP), July 3, 2020
Annexation Will Undermine Peace in Middle East, The Lutheran World Federation, June 29, 2020
27 Church Leaders Write to Congress opposing unilateral annexation of the Occupied West Bank, June 4, 2020

A Statement by the Patriarchs and Heads of Holy Land Churches on Israeli Unilateral Annexation Plans, The Evangelical Lutheran Church in Jordan and the Holy Land, May 7, 2020
WCC and MECC Joint Letter to the European Union, May 11, 2020
Opinion: Donald Trump Is Complicit in a Catastrophe for Christians, Munther Isaac and Jamal Khader, Haaretz, May 6, 2020 [May require subscription]
Click Here: 3 Steps to Raise Your Voice on Social Media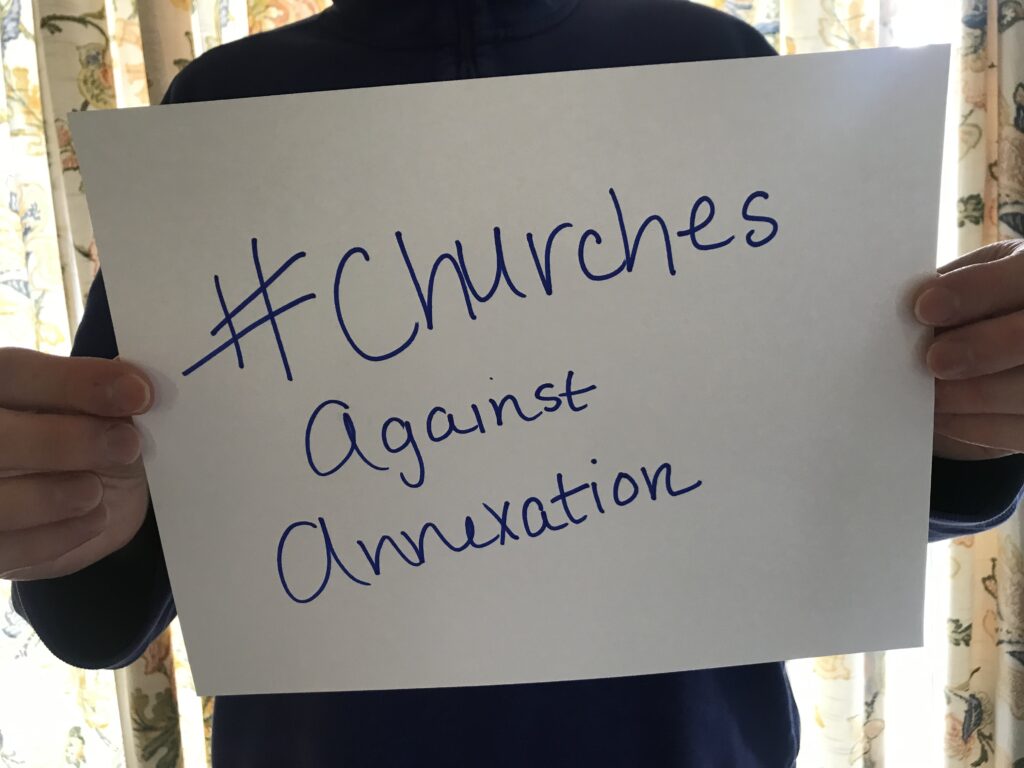 Join us in solidarity with #ChurchesAgainstAnnexation by printing out the campaign graphic or creating your own and posting pictures of you individually and with groups on social media. Consider hosting a Zoom small group gathering so you can be in a picture together! Be sure to use #ChurchesAgainstAnnexation and tag us in your post – @ChurchesforMEP – on Facebook, Twitter, and Instagram. Invite others to join the campaign. Share with friends, small groups, your community, and your church and welcome them to participate in #ChurchesAgainstAnnexation. Social media is a great way to raise awareness around this issue.