CMEP's work to Educate, Elevate, and Advocate is possible because of generous support from individuals like you!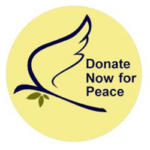 Consider supporting Churches for Middle East Peace's work by joining the CMEP Sustainers' Circle. With your monthly gift, you would help ensure CMEP's programming and services for the future. It is easy, hassle-free, and a "greener" way to give as it reduces paper use! Get started today!
You can also make a one-time gift to CMEP or advance our efforts by joining one of our Donor Circles. Donate Now! Or learn more about our circles here. Your support makes a difference.
Do you shop on Amazon? Consider supporting CMEP while you shop through Amazon Smile. You can use your existing Amazon account and there are NO additional costs to you. Visit Amazon Smile, select Churches for Middle East Peace, and have your next purchase support CMEP's peacebuilding work! Or help us fulfill our Amazon Wishlist for some of our basic office supplies, event materials, and tech needs.
Be a part of honoring the legacy of former CMEP Executive Director Warren Clark through your support of the Ambassador Warren Clark Fellowship (AWCF). The AWCF will sustain our efforts to honor Warren's legacy while helping us increase our staffing capacity and provide valuable experience to the current generation of students passionate about peace in the Holy Land. Contribute here.
Learn more about the Ambassador Warren Clark Fellowship.
Long time CMEP supporter Landrum Bolling recently sent us a message that we would like to share with you. Born in 1913, Landrum Bolling has spent most of his life advocating for peace. He has been a professor, war correspondent during World War II, University President, and Middle East expert. During President Jimmy Carter's administration Landrum Bolling served as the unofficial communications channel between the U.S. and Palestinian Liberation Organization (PLO).