The World is Too Small for Walls
My recent vacation travels took me to northern England, where a friend and I walked a substantial portion of the route of Hadrian's Wall, and then on to Berlin, where the Berlin Wall lives on – in spite of having been torn down 30 years ago. Both experiences awakened memories of the time I spent in Palestine, looking at the "Separation Barrier" from a number of different perspectives, passing through its numerous checkpoints and monitoring those same checkpoints as a human rights observer.
The Roman Emperor Hadrian ordered his soldiers to build a wall, intended to keep the "marauding barbarians" from the north from invading Roman-occupied Britain in the south. Construction on the Wall was begun in 122 AD, and it was completed some seven years later. It stretches just over 70 miles (we walked about 50 of those miles on our week's visit!), and was a masterpiece of engineering. Parts of the Wall were as high as 20 feet (including ramparts) and the route also included lookout towers (every 1/3 mile), mile castles (every mile!) and Roman forts (about every five miles).
While much of the Wall was dismantled for use as building materials after the Romans abandoned it, enough remains to give visitors a good understanding of the structure of the wall and its importance as a military boundary – as well as the opportunity to re-visit some early history while observing stunning views of the English countryside. It also was a powerful illustration that, even 1900 years ago, the strong wanted to "protect" themselves from the "outsiders!"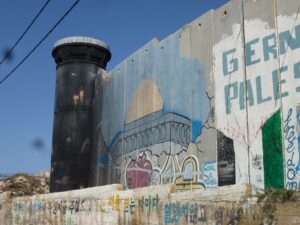 The Berlin Wall is, of course, a piece of modern history – and the emotions it evokes are much fresher! A 4,000 foot section of that Wall has been preserved as a memorial, the East Side Gallery, where contemporary artists have painted portions of the Wall. Wikipedia describes the Gallery as, "monument to the fall of the Berlin Wall and the peaceful negotiation of borders and conventions between societies and people."
That got me to thinking about the differences – and the similarities – between Walls. Hadrian's Wall was built to keep "the other" out; the Berlin Wall was built to keep the people in. And the Separation Barrier between Palestine and Israel serves both purposes – it keeps the Palestinians OUT of Israel and IN Palestine, while at the same time doing nothing to keep the Israelis and settlers OUT of Palestine!!
Of course, both Hadrian's Wall and the Berlin Wall pale in comparison to Israel's "Separation Barrier," in terms of size and, I believe, in terms of the number of people affected! The Separation Barrier is more than 16 times the length of the Berlin Wall (440 miles to 27 miles) and more than twice the height (26 feet to 11 feet). And, while it is difficult to compare the psychological trauma inflicted by these walls, it is apparent to anyone who visits Palestine and goes through one of the checkpoints that the stress created by living behind a wall can kill one's spirit. Fortunately, the Palestinian people that I came to know during my time there, are resilient.
And, of course, any discussion of Walls would be remiss without a mention of Trump's planned "Border Wall." I understand that the same Israeli company who built the Separation Barrier has been contracted for construction on this monstrosity. Odd that so many Americans condemn the former, while justifying the latter as "necessary for Israel's security?"
My favorite souvenir of my Berlin visit is a refrigerator magnet with the words, "The World's Too Small for Walls." This bit of wisdom demonstrates some understanding that Walls are not a solution – a lesson that is yet to be learned by Israeli and American politicians alike!
Holy God,
We pray that hostility and indifference may give way to hospitality and justice. Help us to be vigilant stewards and faithful partners, and strengthen us to live as people of your creation, committed and bold in deeds of justice. Oh Lord, may we welcome the stranger as you have welcomed us.
God, you taught us through your Son to seek the signs of your reign in the tiny mustard seed. Plant your word deep in the soil of our hearts, sow in us the seeds of compassion; let your hospitality take root within us, and your compassion grow in us, so righteousness may spring forth in all the world, and your holy will be done through Jesus Christ our Lord.
Amen.
---
When talking about my involvement with Israel/Palestine, Dee usually says that she grew up on the "Exodus Myth" ("a land without people for a people without a land"). She was subsequently enlightened when Sandy Olewine, a former Methodist missionary to the Holy Land, gave a presentation to her local Methodist Federation for Social Action (MFSA) group. Subsequently, she was chosen to go on an educational tour of the Holy Land through United Methodist Global Ministries – a life-changing journey that turned the focus of her activism to making people aware of the myriad injustices of the Israeli occupation of Palestine. A few years later, Dee served three months with the Ecumenical Accompaniment Programme in Palestine and Israel (EAPPI), monitoring human rights violations from her "home" in Tulkarm, oPt. She continues her activism through the OR/ID UMC Holy Land Task Force, CMEP, and a coalition of Palestine-rights activists in her home city of Portland, Oregon.
CMEP is very thankful for the writers who contribute Spiritual Resources. However, CMEP does not necessarily agree with all the positions of our writers, and they do not speak on CMEP's behalf.