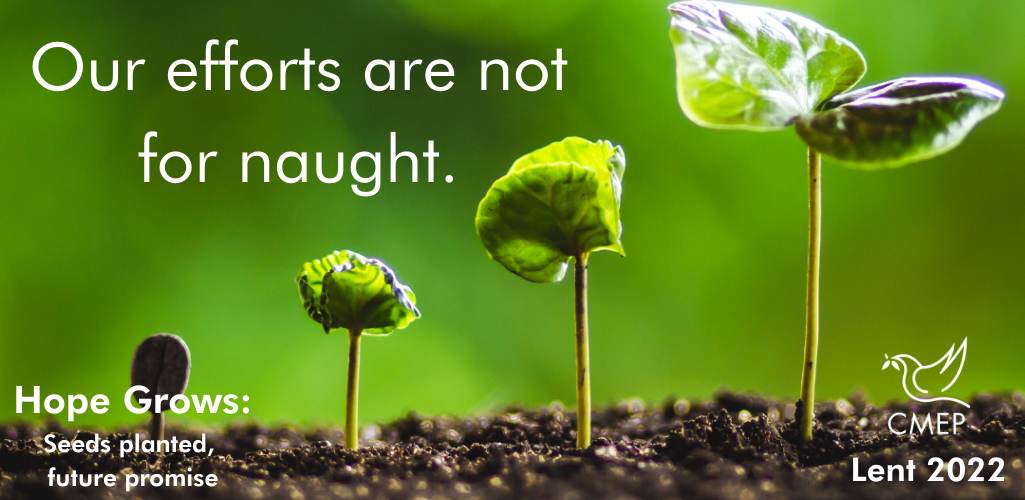 Establishing Justice on the Earth?
Kevin Vollrath
"Here is my servant, whom I uphold, my chosen one in whom I delight;
I will put my Spirit on him, and he will bring justice to the nations.
He will not shout or cry out, or raise his voice in the streets.
A bruised reed he will not break, and a smoldering wick he will not snuff out.
In faithfulness he will bring forth justice; he will not falter or be discouraged
till he establishes justice on earth.
In his teaching, the islands will put their hope."
Isaiah 42:1-4
This is the first of four passages in Isaiah commonly understood as describing the "suffering servant." Many Christians understand these prophecies to be fulfilled in Jesus' ministry, and others consider the Biblical nation of Israel as a whole to be the suffering servant.
The passage strikes me for its repetition of justice. This servant will bring justice to not just one, but the nations. The servant will bring forth justice – as if it's hiding somewhere waiting to be revealed. He will not falter or be discouraged until he establishes, or puts, justice on the earth.
If this passage does indeed refer to Jesus the Messiah, either justice has been established, the prophecy is false, or Jesus is still working on it. Though bewildering, the last seems most likely to me.
So how might Jesus be still bringing forth justice? Has he really not faltered or grown discouraged?
I sometimes wish Jesus was more vocal about the injustices of his day. He didn't seem to shout or cry out or raise his voice in the streets. He raised his voice in the Temple, out of zeal for this Father's house. Was he more passionate about teaching right worship, keeping the Temple from becoming a den of thieves, than about condemning the oppression surrounding him?
How will he bring justice to the nations? How will he bring forth justice in faithfulness? Has he still not faltered or grown discouraged? For surely justice is yet to be established on earth. Jesus' Kingdom theology isn't the intuitive kind of restorative justice most of us would reasonably hope for. Instead, he offered healing and prophetic words and invited others to do the same.
Yet his teaching is the hope of even the islands, the most marginal, those most distant from centers of power and influence. The next suffering servant passage also addresses the islands: "Listen to me, you islands; hear this, you distant nations" (Isaiah 49:1)– this hopeful teaching is for every nation everywhere. Yet even the suffering servant can come to doubt the purpose and value of his labor: "But I said, 'I have labored to no purpose; I have spent my strength in vain, and for nothing. Yet what is due me is in the Lord's hand, and my reward is with my God'" (Isaiah 49:4).
If both of these passages are true and both refer to the same suffering servant, it is possible to doubt the purpose of one's labor even while one is not faltering or growing discouraged on the way to establishing justice on the earth.
May all of us working for justice take heart – our efforts are not for naught.
CMEP has the privilege of working alongside Jewish and Muslim, as well as secular, peacemakers. Perhaps many of us feel like bruised reeds or smoldering wicks, struggling to persevere. Despite theological differences, may we be unified by the fear of God which keeps us all seeking justice and hoping for redemption, especially for the most vulnerable among us.
May those of us who seek to follow Jesus' teachings seek also to see his presence and work through our colleagues of different faiths. May all of us working for justice not falter as you put your hope in the coming of the Kingdom of God. The Kingdom is still near. Justice is coming.
Lord Jesus, draw our eyes to you, the author and perfecter of our faith.
May we be inspired by your persistence. Give us eyes to see where you are continuing your work when it's easy to only see war, destruction, and evil. We ask you to continue establishing justice around the world, particularly in Ukraine, Yemen, Syria, Israel, and Palestine. May your Kingdom come, on Earth as it is in Heaven.
Amen.
____
Kevin Vollrath is CMEP's Manager of Middle East Partnerships. Kevin is a Ph.D. candidate in Religion and Society at Princeton Theological Seminary, where he also earned an M.Div. His research focuses on the relationship between the Israeli occupation of Palestine and Palestinians with disabilities, and how the occupation produces disability. In joining CMEP, he is excited to complement his research with advocacy work.
Any views or opinions contained herein are solely those of the author and do not necessarily represent those of Churches for Middle East Peace (CMEP).