Equal in God's Eyes: Human Rights and Dignity for All in Israel/Palestine
A Churches for Middle East Peace (CMEP) Advocacy Summit
June 21-23, 2020 | Washington, D.C. & Alexandria, VA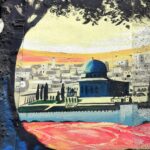 "And the second is this: 'You shall love your neighbor as yourself.'
There is no commandment greater than these." Mark 12:31
Injustice and strife have created victims on all sides of the conflict in Israel and Palestine. From local communities to the Middle East as a whole, no group goes untouched. The conflict denies dignity and fundamental human rights for every individual living through the situation.
The best way to change the world is by changing how we act in the world: treating others as Christ demands us; following the example of early Christians who blazed a trail of equality. As followers of Christ, we are all equal in God's eyes. At Churches for Middle East Peace (CMEP) we believe that our differences should not divide us, rather they should open opportunities for learning, growth, and community.
Join us June 21-23, 2020, in the Washington, D.C. area for our annual advocacy summit where we will work to remove the obstacles that prevent us from seeing both Israelis and Palestinians as human beings and deserving of human rights and help us move toward seeing everyone as equal in God's eyes and the actions that follow out of that belief. CMEP embraces an impassioned call for justice and peace for all people of the Middle East.
Speakers will explore topics like Palestinian dignity, inalienable rights, and the future of the peace process. On Tuesday, you'll have the chance to meet with your Congressperson's office as we advocate for legislation around the Israeli-Palestinian conflict.
Come be part of our Advocacy Summit and be an advocate for equality for all people in God's eyes!
Standard Ticket $275 until February 1, 2020 (other price tiers available based on ability to pay)
SUNDAY, June 21
Alexandria, VA Hotel*
5:30 pm
Opening night dinner
Connect with others interested and involved in the work.
*We are finalizing the details for the location of the dinner and will have that information to you shortly. We are also negotiating a discounted room rate at the same hotel that offers a free shuttle from the DCA airport and is accessible via public transit to Monday and Tuesday's location. Details available soon.
MONDAY, June 22
Alfred Street Baptist Church
Alexandria, VA
8:30 am  – 6:00 pm
Spend the full day Monday with others at the conference hearing from a variety of activists, pastors, political leaders, and experts on how they are working for peace and justice.
Get congressional advocacy training and meet with others from your state or region who are also interested in advocating for peace and human rights.
TUESDAY, June 23
Washington, D.C.
8:30 am – 6:00 pm
On Tuesday we head to Capitol Hill to meet with your elected representatives.
Closing ceremony on the National Mall at 5:00 pm