Advent and Christmas Devotions 2016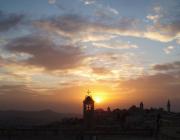 We are living in challenging times. Sometimes it doesn't feel like there is light on the horizon.
There seems to be much darkness – from the challenges of our country's internal strife to the vast unrest, violence, and political conflict in the Middle East.
It is important during the Advent season to be reminded that we are waiting in expectation for the Light of the World to come. As we wait for the day of Christ's birth – we anticipate the celebration his incarnation – God made flesh.
Christ came to meet the needs of the world and to bring light to darkness. Throughout the weeks of Advent 2016, we focused on the hope that comes because of our faith in the Light of the World!
First Week of Advent Devotion
Second Week of Advent Devotion
Third Week of Advent Devotion
Fourth Week of Advent Devotion
Fifth Week of Advent Devotion