Advent 2022: Embodying God's Peace
---
CMEP's first Advent Devotional Book
CMEP is pleased to have partnered with author Kelley Nikondeha to create a devotional series entitled "The First Advent: Embodying God's Peace Plan" that is available for purchase for you or your church group. This devotional book contains devotionals for each Sunday of Advent, including Christmas Eve and Christmas Day, as well as Alternative Advent Practices written by members of CMEP's staff.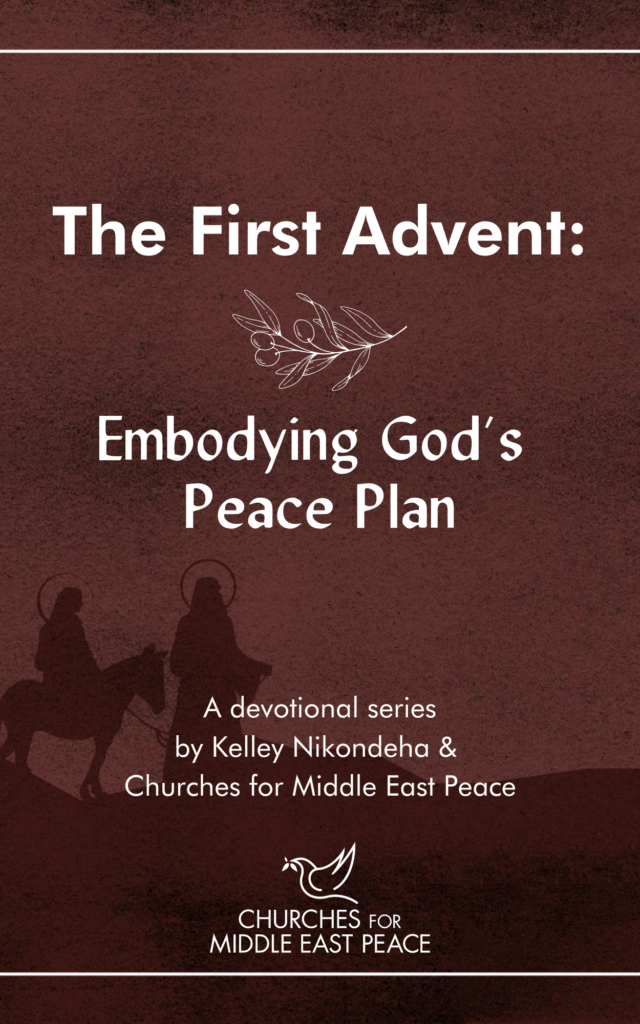 Together this Advent season, we look toward the child born in Bethlehem (Micah 5:2). Guiding us on our journey, Kelley Nikondeha offers devotions from her book The First Advent in Palestine: Reversals, Resistance, and the Ongoing Complexity of Hope. Nikondeha teaches us about invitations from the first Advent into service, embodying God's peace through lament, collective prayer, resisting injustice, theological reflection, following stars toward hope, and being willing to relinquish the status quo. At Churches for Middle East Peace (CMEP), our work seeks to embody each of those practices. We ask the question and daily live out what it means to have hope when the status quo on the ground in Palestine and the Middle East often seems to be getting worse. We remain committed to education and service in response to the injustice we witness as we advocate for the U.S. government to have different policies that will create justice and equality for all people in the Middle East.
---
This year, we were pleased to partner with author Kelley Nikondeha to create devotionals on the theme of "The First Advent: Embodying God's Peace" throughout the season of Advent. CMEP is very thankful for this resource. However, CMEP does not necessarily agree with all the positions of our writers, and they do not speak on CMEP's behalf.
– Your team at Churches for Middle East Peace (CMEP)