Welcoming the millions of "other" Christians around the world as they prepare for Great Lent
This devotion, written by CMEP's Manager of Middle East Partnerships, Kevin Vollrath, is in preparation for our upcoming Lent Devotional series. The first Lent Devotional will be available on March 1, 2022, and our theme for Lent is "Hope Grows: Seeds planted, future promise". You can find our Lent Devotional series here.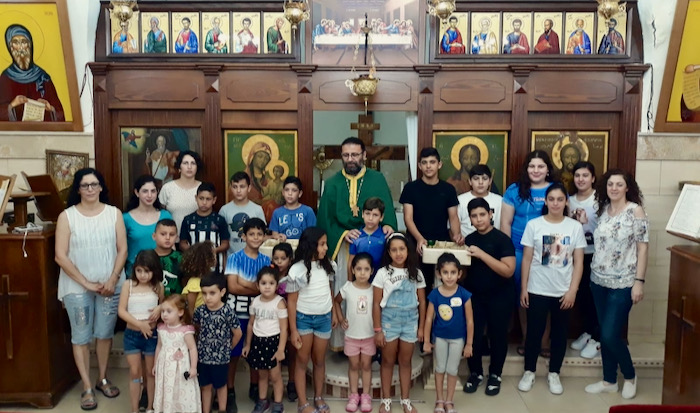 LEARNING ABOUT ANCIENT CHRISTIAN COMMUNITIES
'Why are we 'celebrating' the fast of Great Lent this month?'
EDITOR'S NOTE: Right now in America, there's not a hotter question than: What does it mean to be "Christian"? Of course, that question is freighted with our own "local" political meaning in the United States today. Here at ReadTheSpirit magazine, our goal week after week is to cover global religious and cultural diversity—because we believe that learning about diversity leads to healthier communities.

Around the world, Christians make up nearly a third of our population, according to Pew Research. However, North America is home to only about 12 percent of the world's 2.2 billion Christians. That means our American battles over who can be called a "Christian" can sound like a local family feud among the nearly 2 billion Christians who live in South America, Africa, Europe and Asia.

This week's cover story reminds us, as Americans, about another vast swath of Christianity—nearly 300 million Christians who most Americans tend to forget: the Orthodox. Thanks to researcher Kevin Vollrath and our long-time friend Mae Cannon, ReadTheSpirit plans to bring readers a monthly series of stories from this ancient Eastern branch of Christianity. You can read our latest Cover Story on Mae Cannon's work from 2020, headlined: As millions of Christians move toward activism, you should meet Mae Elise Cannon, an ethical organizer. Among her many commitments, Mae is executive director of Churches for Middle East Peace, which made this new monthly series possible. You can learn more about Kevin at the end of this column.

We start this week with a story about Father Elias Khoury, a Greek Orthodox priest in Jadeidi, Israel, who is preparing for Great Lent to begin on March 15. That may surprise many of our readers, because we reported on the start of Lent for Western Christians last month! In fact, this year, the Western and Orthodox calendars vary by almost an entire month.
Father Elias: 'As Christians, our life is a fasting period.'
By KEVIN VOLLRATH
Contributing Columnist
When Father Elias Khoury, a Greek Orthodox priest in Jadeidi, Israel, talks with his community about the Fast of Great Lent, he uses words like "celebrate" and "joyful" that may sound surprising to Christians living in the United States. Millions of American Christians—Catholics and Protestants—began Lent on February 17 with Ash Wednesday. Because church calendars vary between Western and the ancient Eastern churches, Orthodox churches will begin the period of reflection that leads to Easter with Clean Monday on March 15. And very much like Father Elias's sermons in the Middle East, Orthodox clergy emphasize the great joy families should feel while giving up a whole host of favorite foods.
For Americans, giving up chocolate during Lent seems like a major sacrifice. In the Orthodox world, observant families abstain from meat, fish, eggs and dairy products, wine and oil.
What's joyful about that?
This kind of fasting is a reminder of the watchfulness and humble self-denial with which Christians should live their lives, Father Elias says. "As Christians, our life is a fasting period. We're not just doing it one day or one week. It's not just a celebration of a memorial day. It's something that we live, not just during times like the Fast of Great Lent, but all of our life. It involves much more than what we are eating and drinking. We must learn to become watchful and fasting is living in that awareness, when you watch yourself always. It's a daily process and our job as Christians."
That is also why Great Lent is part of a much longer process that actually began weeks ago for Orthodox communities—preparing week by week with scripture readings, prayers and a gradual paring away of foods to be ready when Great Lent begins.
The seven weeks of Great Lent are preceded by four weeks of preparation in which the faithful give up whole sections of their normal diet until a family's dinner table is, for the duration of Lent, stripped of animal products, wine and oil. Far from arduous, it is a joyful time of drawing near to each other and God, with daily prayers and inspiring Bible readings. Lent is a celebration because it gives us the opportunity "to live the biblical story" liturgically, from creation in Genesis to redemption in Revelation, as Father Elias puts it.
"Our readings during this time are joyful and not sad," Father Elias says. "We're celebrating the Kingdom of God on Earth! It's part repentance, and part happiness that God gave us salvation"
Before becoming a Greek Orthodox priest, Father Elias worked as an engineer. He has been married for over 20 years and has two kids. He also enjoys teaching in a local middle school.