Lent 2022: 3rd Sunday of Lent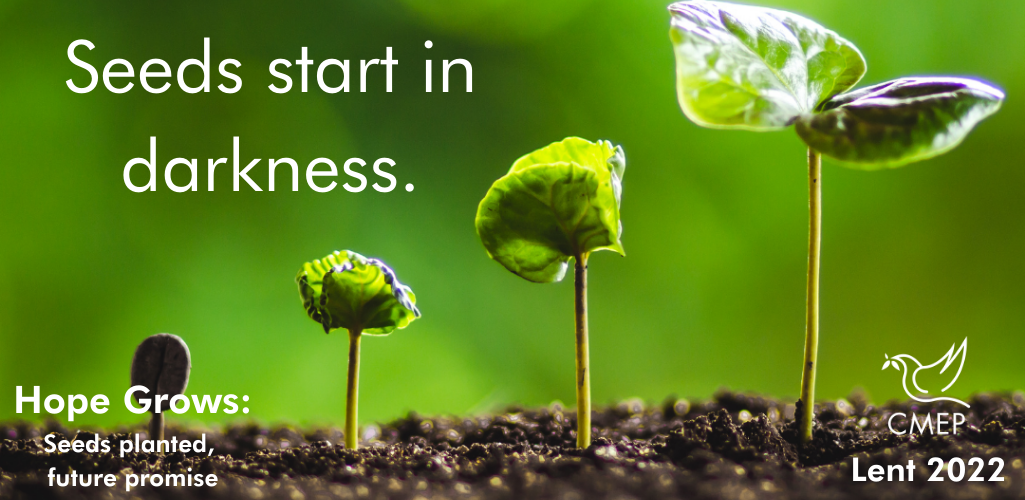 Good Light
Nicole Morgan, Executive Administrator at CMEP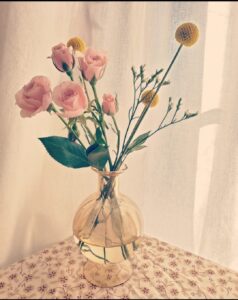 My mother has a collection of potted plants inside her home and a garden full of flowers designed to attract butterflies and bees to her yard. She always has an aloe plant on hand for scrapes or burns. I didn't know you could buy aloe gel in a plastic container until I was in college. My father grew up on a farm and can coax food out of the ground or mix fertilizer into the red Georgia earth to balance out the nutrients needed for whatever they desire to grow.
Me? I can't keep kitchen herbs alive and once killed an aloe plant (in less than a week) that my mom had propagated for me. Recently I sat a vase of flowers in front of the window in my office, delighting at how the light shone on the small vase of delicate pink roses and small yellow wildflowers that looked like little puffballs. The next day I sat down at my desk and noticed that while the wildflowers were still strong and tall, the pale pink roses looked positively roasted – their petals wilted and withered. The light was good, or at least bearable, for one flower and absolutely crushing for another.
I often first think of light as universally good. And that its goodness exists on a scale of "the more light, the better." So often when I think of plants and growth I think of the light it needs, not the need to protect it from the light.
But seeds start in darkness and some blooms are delicate.
The Psalmist exclaims: "O God, you are my God, I seek you, my soul thirsts for you; my flesh faints for you, as in a dry and weary land where there is no water." (Psalm 63:1) A bright light is most likely to be detrimental to one who is already parched, in a dry land. The Psalmist continues: "My soul is satisfied . . when I think of you on my bed, and meditate on you in the watches of the night; for you have been my help, and in the shadow of your wings I sing for joy." They have found comfort in darkness and shade. It is this cool and quiet place where they are able to find rest and express joy and satisfaction.
The harshness of all the injustices in the world seems ever more scorching and destructive: the pandemic still kills thousands a day, racial injustice is rampant, the economy seems designed to reward only a few and destitute others, wars begin and stretch on, people live without basic human rights, and our political advocacy on behalf of justice and human rights in the Middle East and elsewhere can so often seem like we are throwing drops of water at a plant that is wilting in this blistering heat.
I'm asking myself what it means to "meditate in the watches of the night" and to "rest in the shadow." What does it mean for me as an individual human to acknowledge that at times I and my communities are more delicate blooms than hardy wildflowers and we can't be in the harsh light forever without some respite? How do I resist the myth of a resilient people especially qualified to suffer and demand that we find a way to offer relief from the searing heat of injustice? What does it mean for all these hopeful seeds of justice we seek to plant? Where do I need to rest in darkness until there is good light and what does it look like to think about our work for justice and peace with a knowledge that darkness and soft warm light is part of the process? How do we shade those seeds and soft blooms of hope?
Each plant is different. Mature wildflowers and cacti exist. We are in different phases of growth. We are different seeds and blooms. The light that is oppressive or endurable is different for all of us and our work for justice.
Those are a lot of questions without any answers. But the questions keep me motivated in my work as they remind me of the possibility that darkness is good in the growing process. I was recently asked how we approach burn-out and despair in our work at Churches for Middle East Peace. My answer is that we celebrate small progress and we acknowledge that it won't be bright and sunny and victorious looking often. This acknowledgment of small things is not a consolation prize. It is a vital way that plants grow and thrive. It is part of the process. We are planting seeds and they are resting in the cool darkness. They will find the light when it is a good light.
I'm giving my office window and its bright, harsh light another chance. I bought an aloe growing kit and dutifully filled the bottom of the container with small stones, topped with wet soil, and finally carefully buried a few tiny seeds just under the surface. The kit calls for the whole thing to be covered in plastic and sat in a warm place for a couple of weeks until it starts germinating. I sent pictures of my set-up to my mother, asking her about what would be a good light for this plant. She advised me on moving the table back from the window a bit, closing the white curtains to diffuse the light, and paying attention to which hours of the day the curtains are open or closed. Even this desert-dwelling aloe plant can be sensitive to the bright light and harsh heat of the direct sun, she said. If I want this plant to root and sprout, to grow and flourish – I'm going to have to be mindful of a good light versus any light. The seeds are covered for now under the dark soil. I'm going to try my best to ration out the sun and the shadow and learn what amount of each will help this plant to thrive.
Creator God, We thank you for light and we thank you for shadow. We pray that we will find respite in shadows and darkness. That we will not yearn to be in a light that will ultimately whither the fruit of our work, but that we will know what light is good for the work you have created in and for us.
————–
J. Nicole Morgan is CMEP's Executive Administrator. She endures the bright summer sun near her home in Atlanta, GA but much prefers the shade. Her writing has been published in Christianity Today, Religion News Service, The Christian Century, Sojourners, and others. She is the author of Fat and Faithful: Learning to Love Our Bodies, Our Neighbors, and Ourselves (Fortress Press). Nicole earned her Masters in Theological Studies from Palmer Seminary at Eastern University.