Interested in learning more about the realities of life in Gaza? Looking for resources to share with friends or your small group?
Preparing to engage in advocacy?
CMEP has put together a collection of articles, reports, webinars, and background information to help you learn and be a prepared advocate.

Articles: Background and insight into faith, politics, and life Gaza.
Reports: In depth information on the humanitarian catastrophe in Gaza.
Webinars: Interviews with individuals who live in Gaza and NGO's who work there.
Background: Infrastructure Crisis in Gaza 2017  
During the 2014 Gaza War, the main power plant is Gaza was damaged severely. Since then, the infrastructure crisis has grown exponentially. Exacerbated by the difficulty in purchasing Diesel due to a financial conflict between the Palestinian Authority and Hamas, Gazans are impacted in three crucial areas, energy, water and communications, which stunts any hope for stability. Currently, Gazans typically only have electricity for 3-4 hours per day, leaving them in darkness for about 21 hours. >>Continue Reading
Articles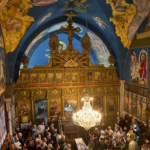 By Jessica Hill, CMEP Research Intern Spring 2017, and Kyle Cristofalo, CMEP's Director of Advocacy and Government Relations
Learn about the history of the Christian community in Gaza and the realities that community faces today. "The Christian community today traces its rich history back 2,000 years and has been a crucial part of Gaza's society and history. Its contributions through education, hospitals, churches and dedicated leadership have been a powerful expression of faith in a region which has suffered heartbreaking devastation from wars."
Life Inside the Gaza Blockade [Sojourners, July 2017]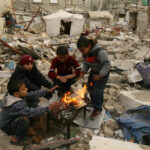 By Rev. Dr. Mae Elise Cannon, CMEP's Executive Director, and Jessica Hill, CMEP Research Intern Spring 2017
Gain insight into the realities of life in Gaza and the people who are working diligently toward peace. "The blockade of Gaza has created a humanitarian crisis, and hopelessness. But the outside world has the power to offer a lifeline."

Reports
Hand on the Switch: Who's Responsible for Gaza's Infrastructure Crisis? [Gisha, 2017]
Gisha's 2017 report takes an in-depth look at the grim state of Gaza's electricity, water, sewage and communications infrastructure. The report describes how we got to this point and, for the first time, outlines the responsibility shared among the various actors at play in the Gaza Strip today. The report shares short-, medium- and long-term solutions, culled by experts, to prevent collapse, but, more importantly, to help maintain and develop critical civilian infrastructure. Hand on the Switch is referenced in CMEP's March 9, 2017 webinar with Gisha's Executive Director Tania Hary.


Webinars
Gaza: Working Toward a Better Future [07/24/2017]
Gaza Field Manager for Catholic Relief Services (CRS), Bassam Nasser, speaks with CMEP's Director of Advocacy and Government Relations, Kyle Cristofalo, about CRS' work in Gaza providing emergency relief to the most vulnerable. Nasser also discusses his hope for a better future and steps to take to help move toward a just resolution of the Israeli-Palestinian conflict.
Growing Up In Gaza [07/18/2017]
Fulbright Scholar Oday Abdaljawwad speaks with CMEP Executive Director Rev. Dr. Mae Elise Cannon about growing up in Gaza and the unique challenges the ongoing humanitarian crisis places on children. Abdaljawwad is currently a Development and Advocacy Intern with CMEP.
Gaza: Searching for Light [03/28/2017]
In 2014 Gaza's main power plant sustained severe damage as a result of the Gaza War. Three years later the power plant remains mostly inactive. Today, most Gazans live in the dark for as many as 21 hours every day. Learn about the current realities of life in Gaza and where there might be opportunities for hope.

Hand on the Switch and Lights for Gaza [03/09/2017]
Hear Tania Hary, Executive Director of the Israeli human rights organization Gisha, and Executive Director of Churches for Middle East Peace Rev. Dr. Mae Elise Cannon, recently returned from Gaza, engage in a conversation on the humanitarian crisis in Gaza. Learn about the current realities of Palestinian life in Gaza where most Gazans live in the dark for as many as  21 hours every day.

During Spring 2017 CMEP partnered with Rebuilding Alliance to send solar powered Luci Lights into Gaza. Individuals like you raised enough funds to send 570 Luci Lights to people in Gaza. Thank you to everyone who participated!! Learn more here.