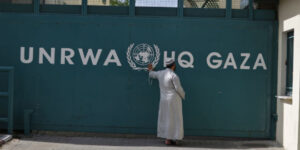 The economic situation in the West Bank and Gaza remains dire. As of 2018, unemployment in the West Bank stands at 19 percent and unemployment in the Gaza Strip hovers around a staggering 41 percent. The Palestinian Authority (PA), which was created as a transitional government under the Oslo Accords in 1995, faces a severe debt crisis with an annual budget deficit of $1 billion. In the face of such fiscal constraints, the Palestinian territories rank 107th out of 186 countries on the UN's human development index. Currently, 70 percent of Palestinians in Gaza require humanitarian assistance. Humanitarian programs funded by U.S. economic assistance provide Palestinians with education, healthcare, childcare, supplemental nutrition services, and emergency assistance.  
Ever since its creation in 1949, the U.S. government has generously funded the United Nations Relief and Works Agency (UNRWA) through the State Department's migration and refugee assistance account. UNRWA "provide[s] relief, human development and protection services to Palestine refugees"–more than 5 million in total. The organization is a major employer of Palestinians in the West Bank and Gaza. Additionally, UNRWA services are available to Palestinian refugees in Jordan, Syria, and Lebanon. In 2018, the Trump Administration cut 80 percent of the funds pledged to UNRWA for the fiscal year.  
Since the Oslo Accords, the U.S. congress has also appropriated annual bilateral aid packages for Palestine. U.S. economic assistance comes in two forms: payments to non-governmental organization (NGO)-administered humanitarian programs funded by USAid grants and PA debt relief payments. Since 2014, U.S. bilateral aid has been paid to the PA's creditors rather than directly to the PA itself. Despite this additional buffer, the 2017 Taylor Force Act suspended all indirect U.S. aid until the PA discontinues payments to the families of those arrested or killed for resisting the occupation. In addition, the Trump Administration canceled over $200 million in bilateral aid in 2018.  
Churches for Middle East Peace supports robust U.S development and humanitarian aid to the Palestinian people, including via NGO's as a critical component to creating a climate conducive to progress toward peace and  contributes to building stable institutions and a thriving civil society for Palestinians. We urge the administration to re-institute US economic assistance in fiscal year 2019 and beyond.  
Facts at a Glance
(Source: Congressional Research Service, 2018)
Bilateral aid to Palestine since 1994: $5 billion
Funding for UNRWA since 1950: $6 billion
Cuts to bilateral aid: $200 million
Funding for UNRWA: $60 million

Cuts to UNRWA funding: $300 million
Public Statements 
Call to Congress to Support Funding for UNRWA and Bilateral Programs in the occupied Palestinian territories (oPt) in 2021 [March 2020]
For many decades, Congress regularly appropriated funds to ensure the needs of vulnerable Palestinians would be met. Humanitarian aid should never be withheld to achieve political goals. The denial of humanitarian assistance to those who are most in need is contrary to humanitarian principles and undermines the goal of shared security for all people in the region. Read More
CMEP: Kushner's Foreign Investment Plan Is No Substitute for Palestinian Freedom [June 2019]
Churches for Middle East Peace (CMEP) believes a political solution that grants the Palestinian people their full freedom and right to self-determination is a necessary prerequisite to economic prosperity. Even the most thorough and well-planned economic development proposals will ultimately fail if this most basic condition is not met. Read More

Churches for Middle East Peace (CMEP) Welcomes Legislation for Assisting Palestinian Entrepreneurs [June 2019]
On Wednesday, June 5, Senators Tim Kaine, Chris Coons, Lindsey Graham, and Cory Gardner together with Representatives Nita Lowey and Jeff Fortenberry introduced legislation to establish the Palestinian Partnership Fund for Peace. This fund would promote economic development in the Palestinian territories by encouraging collaboration between Palestinian entrepreneurs with U.S. and Israeli businesses. While welcoming this legislation as a positive step toward relieving economic pressure in the Palestinian territories exacerbated by the complete elimination of U.S. foreign aid, Churches for Middle East Peace (CMEP) fervently reiterates that only a negotiated end to the Israeli occupation can lead to a lasting peace. A political solution that works toward a just peace and lasting resolution to the conflict must be addressed alongside efforts to address the economic situation. Read More
Churches for Middle East Peace Joins 17 NGOs in Support of S. Res 171: A resolution expressing the sense of Congress regarding restoring United States bilateral assistance to the West Bank and Gaza
Churches for Middle East Peace (CMEP) joined 17 organizations in a letter supporting the introduction of S. Res 171 by Sen. Merkley (OR). Sen. Merkley was joined by Sens. Feinstein, Coons, Cortez Masto, Van Hollen and Leahy. The resolution calls for the Administration to release all bilateral assistance, including humanitarian aid, already appropriated by Congress for fiscal year 2018 by the end of this year. It also calls for further congressional action to clarify that humanitarian assistance already exempted under the Taylor Force Act, should not trigger jurisdiction under the Anti-Terrorism Clarification Act (ATCA). Read More
Churches for Middle East Peace Joins Letter to President Regarding Cuts to Humanitarian Aid to Palestinians [September 2018]
"Churches for Middle East Peace (CMEP) joined 17 Christian Denominations and Organizations in a letter to President Trump. In the letter, the signatories called upon the President to immediately reverse the recent decision to cut over $200 million in bilateral aid to the Palestinians as well as cease all US funding for UNRWA." Read More
Take Action 
Action Alert: Restore Humanitarian Aid for Palestinians
"When President Trump signed the Anti-Terrorism Clarification Act (ATCA) in October 2018, legal experts warned that it would effectively terminate all U.S. humanitarian aid to the Palestinian territories, putting the lives of the most vulnerable Palestinians at risk and jeopardizing regional security. The Palestinian Authorities' announcement in January that the new conditions imposed by the ATCA made them unable to accept U.S. humanitarian aid confirms these dire predictions.Call on your members of congress to ensure a resumption of vital U.S. humanitarian assistance to Palestine by amending the ATCA." Take Action

Relief Organizations Affected by Aid Cuts
United Nations Relief and Works Agency 
"UNRWA is unique in terms of its long-standing commitment to one group of refugees. It has contributed to the welfare and human development of four generations of Palestine refugees, defined as "persons whose normal place of residence was Palestine during the period 1 June 1946 to 15 May 1948, and who lost both home and means of livelihood as a result of the 1948 conflict." The descendants of Palestine refugee males, including legally adopted children, are also eligible for registration." Learn More  
"Since 2009, USAID has invested more than $400 million in Gaza to improve the lives of Palestinians. USAID promotes economic growth to revitalize the private sector and increase competitiveness; supports infrastructure and health activities to improve access to clean water, sanitation, and quality health care; and provides humanitarian assistance through food and other forms of relief to alleviate the needs of the most vulnerable populations. It is estimated that at least half the population of Gaza benefits directly or indirectly from USAID assistance. USAID adheres to a rigorous vetting system in our work to comply with U.S. policies to ensure that assistance goes to those in need." Learn More
Catholic Relief Services: Jerusalem, West Bank, and Gaza 
"CRS' work initially focused on the provision of food assistance, organizing vaccination campaigns, and leading other nutrition and health-focused initiatives. In the 1970s and 1980s, CRS constructed roads, classrooms, bridges and wells as part of a broad rural development initiative. CRS also implemented nutrition education, vocational training and village health worker training projects. Water projects became a major area of focus in the 1990s." Learn More
International Medical Corps: Gaza 
"International Medical Corps is currently in the midst of a five-year humanitarian assistance project in Gaza, leading a consortium partnership with three other organizations, CARE, Mercy Corps, and the Palestinian group, Juzoor for Health and Social Development—each bringing specific expertise to the project." Learn More
Mercy Corps: West Bank and Gaza 
Mercy Corps distributes emergency food and supplies to families displaced by crisis, provides educational mentoring, one-on-one tutoring and psychosocial support for young people, and expands employment opportunities, especially in the internet technology sector, by providing training, networking opportunities and seed funding for startups. Learn More
CARE's work in West Bank and Gaza 
"CARE currently works throughout the Gaza Strip in poor communities affected by conflict whose security, human rights and livelihoods have been undermined by a naval and land blockade that was instituted in June 2007. We pay particular attention to women and girls who bear the brunt of conflict and poverty that affects 1.6 million Palestinians in the Gaza Strip." Learn More 
American Near East Refugee Aid: Gaza
"Several non-government organizations, including Anera, support Gaza by providing critical supplies and infrastructure to its residents. Anera works as part of a network of aid groups that offers health care assistance and responds to the Gaza food crisis, and also provides other resources required to meet basic needs. Anera trains preschool teachers, builds classrooms and water networks, delivers relief and health care supplies and much more. Together, we can improve the lives of Gaza residents, one step at a time." Learn More