April 7, 2021
@
9:00 am
–
10:00 am
Join CMEP on April 7, 2021 (16:00 IST | 9:00 EST) for a webinar featuring women peacemakers Israel/Palestine. Tamar Samash (Women Wage Peace) and Huda Abuarquob (the Alliance for Middle East Peace (ALLMEP)) will speak about their personal experiences engaging women in peacemaking. Facilitating this discussion will be Rebecca Blachly, Director of the Office of Government Relations for the Episcopal Church in the U.S.

This event is also part of CMEP's And Still We Rise (ASWR) movement. And Still We Rise seeks to elevate the voices, contributions, and leadership of women peacemakers. Despite the growing recognition of the need for programs that empower and equip women, and the fact that women make up the majority of students in Middle East universities, women's voices are still too often underrepresented.
---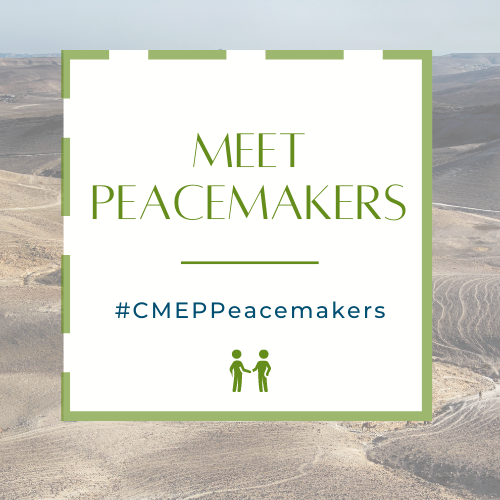 CMEP's Journey with Peacemakers elevates the voices of Israeli and Palestinian leaders dedicated to bringing peace to the Holy Land through a series of stand-alone webinars. In this period of travel restrictions, join CMEP on a virtual journey to the Holy Land and learn about the various ways organizations and individuals continue to work for peace and justice in Israel and Palestine.
Participants:
Tamar Samash (Women Wage Peace): Tamar Samash was born in Jerusalem. Her parents came from Turkey and Germany and met during the war in France. She studied in the Sorbonne and the Hebrew University, before joining the Foreign Ministry in 1975 where she served for 43 years as a senior diplomat. Tamar joined Women Wage Peace in 2019 as she retired from the diplomatic service. She is a proud mother and grandmother, and she believes in building a better world for the next generations

Huda Abuarquob (ALLMEP): Huda joined ALLMEP as its first one-the-ground regional manager in 2014. She has years of experience in conflict resolution, NGO leadership, and social change education and activism, as well as a life-long commitment to building strong people-to-people Israeli-Palestinian relations. Huda is a well-known speaker on issues related to Middle East politics and the Israeli-Palestinian conflict, and has long been an active leader in grassroots Palestinian initiatives focused on women's empowerment and people-to-people diplomacy.

Rebecca Blachly (Facilitator): Rebecca was appointed the Director of Government Relations of the Episcopal Church, part of the presiding bishop's staff, in 2016. In previous roles she has advised the Secretary of State and State Department officials on religious dynamics, conducted fieldwork and research throughout Africa, and has experience in humanitarian assistance, disaster response, and peacekeeping. Rebecca is also a published author and a recipient of the Medal of Exceptional Public Service.
---
*Why is CMEP asking for donations for these events?
Due to Covid-19 all of our in-person programming has been canceled since March 2020 and this will continue to be the norm until at least Fall 2021. As a nonprofit advocacy organization, our advocacy summits and other events are one of the main streams of income we have as an organization. CMEP Journeys is our attempt to offer creative and interesting opportunities to our community. We understand that the cost can be prohibitive for some which is why we are asking for "suggested donation" amounts as we do not want to exclude anyone.