October 4
@
12:30 pm
–
1:00 pm
The prayer event in October will be a part of our Fall 2023 focus on Armenia. Learn More. Those registered for the Armenia series and/or the Prayer events will receive the same link for the October 4th virtual event.
This third session of our Armenia mini-course about Armenia and the Nagorno-Karabakh conflict between Armenia and Azerbaijan will be a prayer gathering. It will include Christian ministries in Armenia, and the opportunity to pray together for an end to the ongoing war and the sustainability of the church in the region.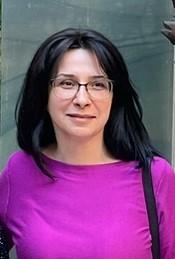 As the Coordinator of the Jinishian Memorial Program (JMP) of the Presbyterian Church USA, Eliza Minasyan directs, oversees, and coordinates operational and administrative aspects of the relief and development programs of the organization. The programs run in seven sites in five countries in the Middle East and Europe, including Armenia, Lebanon, Syria, Turkey, and Israel.
She came to the Jinishian USA office in 2011, after serving the previous five years as Executive Director of the Jinishian Memorial Foundation in the Republic of Armenia. In this position she directed local staff members and managed community-based projects and programs in civil society, community health development, education, and economic development throughout Armenia.
Previously, Ms. Minasyan served four years with Heifer International of Little Rock, Arkansas, as Coordinator for Planning, Evaluation, and Training in Heifer's Central and Eastern European program, with international offices in more than ten countries spanning from Albania to Russia.
She has extensive field experience in project development and management, strategic planning, community development and spiritual uplift in the Middle East, Central Europe, and Eastern Europe.