Welcome to the Churches for Middle East Peace Event Calendar! We hope you join us at an event soon.
All times listed are Eastern.
Please Note: Pricing is suggested donation. We never want cost to prevent you from attending an event, so please reach out to us if you need financial assistance.
American Complicity in the Israeli Occupation: A Conversation with Jim Zogby and Jeremy Ben-Ami
June 30
@
2:00 pm
–
3:00 pm
CMEP is honored to co-sponsor this conversation with J Street, the Arab American Institute, and Combatants for Peace.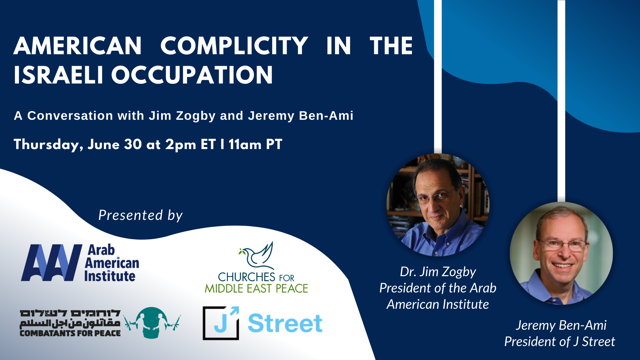 Each year, the United States provides $3.8 billion dollars in military assistance to Israel. Despite a variety of Congressional mechanisms in place to ensure that American taxpayer dollars are not used to abuse human rights abroad, there is little transparency or supervision over the ways in which U.S. assistance to Israel is used. Without a clear understanding of how U.S. military assistance to Israel is used, Congress, and by extension the American people, remain complicit in the ongoing Israeli occupation of Palestinian territory. What can be done to address this reality? How can we effectively advocate with Congress to ensure U.S. taxpayer funds are not and cannot be used to deepen the occupation and abuse Palestinian human rights? Join us for a conversation between Jim Zogby, Founder and President of the Arab American Institute and Jeremy Ben-Ami, Founder and President of J Street where they will discuss how the US must act to help peacefully end the occupation — instead of exacerbating it.
This webinar is hosted in partnership with The Arab American Institute, J Street, Churches for Middle East Peace, and Combatants for Peace. Click here to register. (Please note the registration is being run by CMEP partners and the registration below is through American Friends of Combatants for Peace, not CMEP.)