You Can Help Advance Our Efforts by Joining One of Our Donor Circles.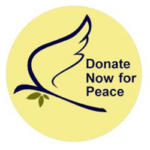 The Advocates Circle are supporters who participate in our action alerts to create awareness about urgent issues with members of Congress.

Those in The Peacemakers Circle give $25-$499 in a calendar year.
The Champions Circle are individuals who give from $500-$999 annually. 
The Covenant Circle members give $1,000-$4,999.
And our Cornerstone Circle members give $5,000+ each year.
Please prayerfully consider partnering with us by joining one of our circles. Your support makes a difference.  Every donor and every dollar brings us one step closer to peace.
For more information, or to become part of a Donor Circle, please email Elli.