This is the final entry in our Advent 2019 devotional series. For the four Sundays of Advent and Christmas Day, we released Advent reflections from voices in the Holy Land. Catch up now: Advent I: Hope, Advent II: Peace, Advent III: Joy, and Advent IV: Love.
---
Christ is Born
As the Christmas season winds to a close my thoughts on my experiences here are finally beginning to settle. Christmas in the Holy Land, especially in the Bethlehem area, is an incredibly busy time, full of old traditions and new. Over the past month, I've attended countless parties, decorated Christmas trees, taken pictures with Santa, eaten chestnuts roasted on an open fire (or in a toaster oven) while sipping red wine, gone to parades, and, of course, worshiped at numerous local churches.
I've lost count of the number of times that people have exclaimed to me about how amazing  it must be to be spending Christmas in Bethlehem. And there are parts of it that certainly have been amazing, though definitely not what I expected. In many ways, I was surprised at how familiar Christmas was here.
I heard many tourists, who flooded the region I now call home for Christmas pilgrimages, complain about the lights and the Christmas trees, saying it "just didn't feel right." I wonder what they were expecting – an inn with no rooms? Donkeys on the street? Perhaps a group of wise men? (Though, in the spirit of honesty, you can definitely find inns with no rooms in Bethlehem, especially during the Christmas season, as well as your fair handful of donkeys bearing loads down the streets right next to puttering BMWs.) Myself, I love the way the narrow streets are strung with dangling icicle lights and the lampposts are twined with garlands and glittering stars. I love the (mostly) friendly competition between the three major towns of the area about who has the best tree. I love showing support for my community by lauding the Beit Sahour Christmas tree and doing some very mild trash talking of the other trees.
Some things, although familiar, took on an entirely new dimension here. For example, Santa is a big. deal. in Palestine. On at least three different occasions, all of my kindergarteners showed up decked out in Santa outfits, some complete with beards. Several of my fellow YAGMs got to dress as Santa to hand out candy to every single student on St. Nicholas day. At the end of the school term, teachers handed out small, personalized gifts to each of their students with Santa's help. Santa Claus even showed up on Christmas Day at the Beit Sahour Evangelical Lutheran Church to help Pastor Ashraf pass out presents to all of the members of the congregation – games for the kids and mugs and bottles of wine for the grown-ups.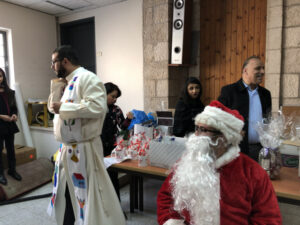 Still other traditions were pretty entirely new to me. For instance, at the numerous parades during the Christmas season, the Scouts led the patriarchs of the church through the winding streets to the church. The Scouts are a co-ed, multi-generational organization that's something between Boy Scouts and a marching band. Each church, school, and town has their own Scouts group, and they are fiercely insistent that their group is the best. On Christmas Eve, all the Scout groups marched through the streets of Bethlehem blasting Christmas tunes … on their bagpipes.
Yes, you heard me right. Their bagpipes.
There are a number of stories about how the Scouts got started playing the bagpipes, but regardless it's a key part of the culture here now. The sheer volume of sound they produce is incredible and absolutely exhilarating. At the end of the parade, several men in full-out bishop garb were led by the bagpipers to the Church of the Nativity. One of them, Archbishop Pierbattista Pizzaballa (yes, that's his real name), was wearing bright pink clerical robes with a bright pink hat with a pom-pom on it (yes, that's really how he was dressed.)
Amid all of these experiences, we still made room for old traditions from home. I lent out my mom's super-secret Christmas frosting recipe for the YAGM cookie decorating party, and we did a little Secret Santa exchange between the seven of us. My parents sent me my Christmas pajama shirt, reading "the Force is strong in my family," so that I could match the rest of the family on Christmas. On Christmas Day, Genna and I headed over to our country coordinators' home to hang out, watch classic Christmas movies, and bake blueberry muffins (what Genna's family always eats for breakfast on Christmas Day.)
That being said, this was a really hard time to be away from home. I've never been away from family for Christmas, and I love my family's traditions of curling up together in the house for an increasingly quiet day as my brother and I have grown older. I love eating frozen Christmas cookies and Swedish meatballs and watching Star Wars. I missed going over to the neighbor's family for "Little Christmas Eve," a celebration on the 23rd of December featuring eggnog and tasty appetizers and small presents. I was able to FaceTime into the gathering, but it wasn't quite the same.
For most of the season, I was too busy to be really homesick, but it also didn't particularly feel like Christmas to me. So when people exclaimed how amazing it must be to be in Bethlehem for Christmas, I didn't really have the words to explain how much I would rather be in my home in Milton. I felt lonely and guilty about it. Plus, this seemed to deny the reality of daily life here, which is checkpoints and occupation and armed soldiers, and I didn't know how to hold these two things together when, like magnets, they seemed to push each other apart.
But, these questions also forced me to think about – really think about – what it actually means to be in Bethlehem, of all places, for Christmas. Going to church, and the wonderful Lutheran pastors' sermons, really helped with this. Since I've had some space from my own expectations of Christmas, these words have had the opportunity to settle in a little more.
My host community, Beit Sahour, is the town of the Shepherds. The city's name literally means "The House of Those Who Are Vigilant," or "The House of Those Who Stay Up at Night." The natives here are incredibly proud of this fact, and my church's bulletin notes that they were the people who first heard the Gospel – the Good News – of Jesus Christ's birth. Today, many visiting Christians from Western countries ask when they converted. "About 2000 years ago" is usually the wry answer. The sense of being surrounded by the cloud of witnesses is strong here.
The Christmas story itself has also shifted for me over the past weeks. Earlier I wrote about the Magnificat and Mary's role in the story of God – these lessons were still ringing in my ears as I moved from Luke 2 to Luke 6.
You see, the pastors who preached on Christmas – Rev. Carrie Ballenger Smith, Rev. Munther Isaac, and Rev. Ashraf Tannous – emphasized the parallels between what's happening today in Palestine and what happened during Jesus' day. The hope and joy of the Christmas season is not incompatible with the reality of occupation that my companions face.
Like my companions today, Jesus was born into a society under the rule of a foreign occupying force with massive military power and complete control over every aspect of their lives. Jesus was born in Bethlehem because of this empire, because of a census designed to raise tax revenue. Mary and Joseph were a poor family, Joseph likely a day laborer. Jesus was born in a cave, among the animals.
Simply put, it makes no sense for God to be here, among the poor and suffering and occupied. It makes no sense for Jesus to be born as a helpless baby, incapable of doing anything to usurp the power of the empire or even to care for himself. And yet, here God is – among the people, laughing and crying and living like they do.
God With Us. Emmanuel.
Wulid al-Maseeh, Haleluya. 
Hearing these people, the community who I love, declare that they believe in this tiny Christ-child, that they have hope in God despite all they experience on a daily basis, was humbling. I felt my heart break and fill up again all at the same time, as I have on many occasions before.
This is what it means to be in Christmas for Bethlehem. And it is pretty amazing.
Dear Lord,
We thank you for the gift of your son. For a plan that is so difficult to rationalize, yet changed the world. We pray for the Christians in the Holy Land and for their commitment to their faith over the past 2000 years. Without them, we would not know the radical power of Christ's love. Thank you for blessing us with creativity and joy as we celebrate this Advent season and help us not forget our brothers and sisters living under oppression and injustice around the world.
Amen.
---
Hannah J. is a Young Adults in Global Mission volunteer serving in Jerusalem and the West Bank! Hannah arrived to her placement in Jerusalem and the West Bank in August 2018, along with 6 other young adults from Young Adults in Global Mission, a program of the Evangelical Lutheran Church in America (ELCA). YAGM sends 70 young people from ages 21 – 29 to nearly a dozen country placements, including to Jerusalem and the West Bank. Volunteers with the YAGM program serve for one year and focus on living in accompaniment with the ELCA's companion churches. You can read more from Hannah on her blog, Yalla, Hannah. CMEP is very thankful for the writers who contribute Spiritual Resources. However, CMEP does not necessarily agree with all the positions of our writers, and they do not speak on CMEP's behalf.