This is the third entry in our Advent 2019 devotional series. For the four Sundays of Advent and Christmas Day, we will be releasing Advent reflections from voices in the Holy Land. Catch up now: Advent I: Hope and Advent II: Peace.
---
Joy to the World: The Confession of a Jerusalem Resident
One of the most beloved Christmas carols—one we all know by heart—is not really about Christmas. Yet throughout the holiday season, "Joy to the world" is everywhere. We hear it on the radio, in shopping malls, at candlelight services, and it's always blaring through the rickety speakers of Christmas-tree lots.
Even so—the lyrics of "Joy to the World" were not written about Christmas. Issac Watts composed the hymn in 1719 as a paraphrase of Psalm 98 and envisioned the tune as a celebration of Christ's return at the end of days. "Joy to the World" was written about Christ's second coming—not his first. The song is the victory anthem of a triumphant king, not the words-set-to-music of a fragile, crying baby in a manger subject to the death-warrant of a jealous king, Herod.
I was troubled when I first learned this. I didn't want some historical detail about authorial intent getting in the way of my festive Christmas singing. But with time, I began to ponder: why would these lyrics fit so well with Christmas? Why would they resonate so deeply with both Christ's second and first coming?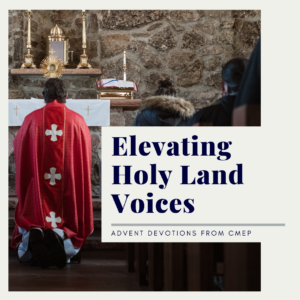 I think it's because the song reminds us that there's more on the horizon than the challenging political, economic, and social circumstances that so easily overwhelm us. Something greater is both here and coming, and it's the promises of God for all creation found in the person of Jesus. Merely singing about such promises—peace and joy, restoration, and reconciliation—builds our anticipation.
Thus far, what I have written is a quaint Christmas reflection, but I have lived in Jerusalem for almost a decade—what I'm writing is radical. Who today, when considering the city, sees peace and joy, restoration, and reconciliation? You need only deviate slightly from the well-worn pilgrimage paths (either physically or ideologically) to encounter people whose lives have been wrecked by the exclusionary political vision of Zionism. Fortunately, groups like Grassroots Jerusalem, Ir Amim, and Terrestrial Jerusalem track the stories of the Jerusalemites who were neither born into nor ascribe to this ideology.
Often, when someone brings up an eschatological vision (Christ's second coming is one) around those who live in the city, they groan: they see another crazy utopian religious dream that's going to reinforce religious prejudice and cause bloodshed. Religious visions for the city may overlap geographically but not theologically (at least not in ways most people think).
So here I am, along with all my Jewish, Christian, Muslim, and agnostic friends (of whom there are more in Jerusalem than you think), crammed into the city whose name and God-given identity is peace. Yet today, peace sounds like a fairytale, the idea of joy seems laughable, and the words restoration and reconciliation come across as empty words used to paper-over asymmetric power imbalances.
Admittingly, I am revealing my cynical side, letting you see the writing I typically delete. But I include it because I want you to understand why I sing.
I recall a pastor and mentor challenging me years ago—we as Christians will always confess more than we understand. He gave an example: we need not grasp the full theological significance of the trinity to confess its truth. We begin with confession, he said, and over time God gives us insight.
That's where I'm going with this reflection: I cannot comprehend how God will straighten out Jerusalem and bring joy to the city—what peace and justice look like when they become more than inspirational themes for utopian dreams. All of this is beyond me, but I know that God is capable, and God will do it. So, for the time being, I will do what my pastor suggested and confess (and in this case—sing) something I know is true, but I can't grasp.
Joy to the world, the Lord is come… and coming. Benediction:
So now, at Christmas, and in anticipation of Christ's second coming, I invited you to confess and sing the profound truth of verse two:
Joy to the world, the Savior reigns
Let men their songs employ
While fields and flocks, rocks, hills, and plains
Repeat the sounding joy, repeat the sounding joy
Repeat, repeat the sounding joy.
---
Kyle Saade is a Christian (at least that's what he strives to be). He writes occasionally.
---
CMEP is very thankful for the writers who contribute Spiritual Resources. However, CMEP does not necessarily agree with all the positions of our writers, and they do not speak on CMEP's behalf.