Advent 2017 | Devotions
As we enter a season of expectant waiting for Jesus, we remember and stand with our Christian family living in those places where it feels as though Christ has yet to arrive. Sadly, the Holy Land where Jesus was born and walked often looks likes one of those places still waiting.
We observe this time of waiting and wondering in a world filled with very real pain, suffering, and loss. While optimism falters in the face of these realities, we know that Christmas will arrive and Emmanuel, God with us, will be born.
As we experience the Hope of Advent, we turn our eyes to the Holy Land and Choose Hope. Not because we ignore the realities we see but because we know that Emmanuel walks with us as we do the peace and justice work God has called us to.
We invite you to Choose Hope this Advent by reading our devotional series, and sharing it with your faith community.
First Sunday

Second Sunday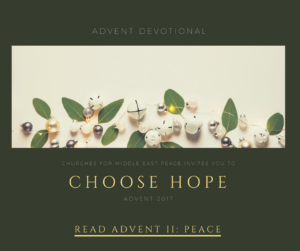 Third Sunday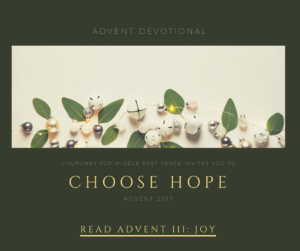 Fourth Sunday
Interested in receiving Advent devotions directly to your inbox?     Sign Up Here