CMEP's Leadership Council is an advisory group of prominent diplomats (retired), politicians, church leaders, academics, and business and media professionals with a particular interest and connection to the Middle East. We are grateful for their experience, wisdom, and work on behalf of CMEP and peace.
Ann Kerr (Emeritus)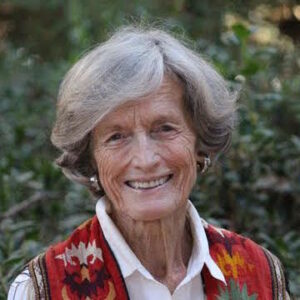 Ann Kerr is the Fulbright Coordinator at the UCLA International Institute. She has taught at American University of Beirut and the American University in Cairo, and is the author of the memoir "Come with Me from Lebanon." Ann received a bachelor's degree from Occidental College, during which time she studied at the American University of Beirut, and a master's degree from the American University in Cairo. Her late husband Malcolm Kerr served as the President at the American University of Beirut until his death in 1984. Ann also serves on the Advisory Board of the RAND Center for Middle East Public Policy, and previously served as the Chair of Churches for Middle East Peace leadership council.
David T. Maloof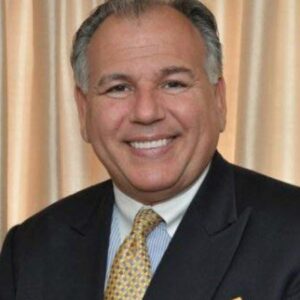 David T. Maloof is an international lawyer and a senior partner in the New York law firm Maloof Browne & Eagan LLC. Dave previously worked as an investigative television reporter, seen on WNET-13. In 2016 he published a history book entitled Christianity Matters: How Over Two Millennia the Meek and the Merciful Revolutionized Civilization — and Why It Needs to Happen Again, which won an international award from the Catholic Press Association. He holds degrees from Columbia University and the University of Virginia Law School.
Mr. Maloof has also been deeply involved in international affairs. Dave and his family worked in a foreign refugee camp, where they assisted in developing a sports facility and program for the children. Now each year the Catholic group Pax Christi Metro New York awards the "Maloof Family Young Peacebuilder Award." He has been an active member of the CMEP Leadership Council for nearly a decade, liaising with government leaders on all sides during his numerous trips to the Middle East.
Scott McConnell
Scott McConnell co-founded The American Conservative in 2002, where he has held the positions of executive editor and editor, and where he is currently a founding editor. A former editorial page editor of the New York Post, McConnell continues to write on politics and American foreign policy.
Ambassador (Retired)
Richard Murphy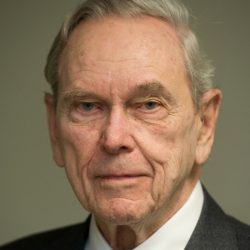 Richard W. Murphy has followed Near Eastern developments for over 50 years, 34 of which were spent as a career foreign service officer. He holds A.B. degrees from Harvard and Cambridge University. After service in the U.S. Army he joined the foreign service of the State Department and from 1955-68 served in Salisbury, Southern Rhodesia (now Zimbabwe); Beirut Lebanon; Aleppo, Syria (1960-63); Jeddah, Saudi Arabia(1963-66); and Amman, Jordan(1966-67). He spent 1968-71 in Washington, D.C., as Country Director for the Arabian Peninsula and Director of Personnel for the Near Eastern Bureau. In 1971, President Nixon nominated him as Ambassador to Mauritania and in 1974 he became Ambassador to Syria (1974-78). He then served as Ambassador to the Philippines and Saudi Arabia. From 1983-1989 he served as Assistant Secretary of State for Near Eastern and South Asian Affairs. During that period he was particularly active in the Israeli-Arab peace process.
After retiring from government service in 1989, and until the summer of 2004, Mr. Murphy served as the Hasib J. Sabbagh Senior Fellow for the Middle East at the Council on Foreign Relations in New York, and has continued to visit that region several times a year. He is now an independent consultant based in New York City.
He is a director of the American Friends of UNRWA and was its founding chair, on the Board of the Foundation for Middle East Peace, former Chairman of the Middle East Institute in Washington where he is now an Adjunct Scholar, and a trustee emeritus of the American University of Beirut.
Ambassador (Retired) Patrick Nickolas Theros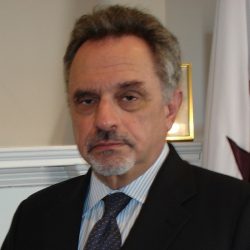 Ambassador (Retired) Patrick Nickolas Theros recently retired as President of the US Qatar Business Council after 17 years. He had taken over the Council after a 36-year career in the US Foreign Service a career that culminated as US Ambassador to Qatar from 1995 to 1998. Ambassador Theros remains deeply involved in issues of the Holy Land as representative in the US of the His Beatitude the Greek Orthodox Patriarch of Jerusalem. He heads a family-owned consulting firm, Theros & Theros, LLP in Washington DC.
Ambassador (Retired) Philip C. Wilcox, Jr. (Emeritus)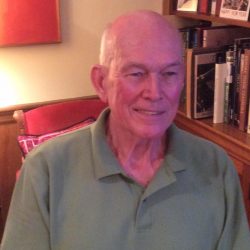 Ambassador Wilcox, the recently retired President of the Foundation for Middle East Peace, served for 31 years in the U.S. Foreign Service. He held positions in U.S. diplomatic missions abroad in Laos, Indonesia, Bangladesh and as Consul General and Chief of Mission in Jerusalem.  Before joining the Foreign Service, Wilcox taught schooling Sierra Leone, West Africa, and practiced law.
His assignments in Washington at the Department of State included Director for Israel and Arab-Israeli Affairs, Deputy Assistant Secretary of State for Near Eastern Affairs, Deputy Assistant Secretary for Intelligence and Research, and Ambassador-at-large and Coordinator for Counterterrorism. Wilcox spent almost half of his career working on the Arab-Israeli conflict in the Middle East, especially the current Israeli-Palestinian struggle.
Wilcox was born in Denver, Colorado, and attended Williams College (BA) and Stanford University, LLB.  He and his wife Cynda live in Bethesda, Maryland and have two children. He is a member of the American Academy of Diplomacy, Chairman of the Board of American Friends of UNRWA, and a board member of the Foundation for Middle East Peace, Washington Institute for Foreign Affairs, International Student House, Washington, DC, and a Member Emeritus of Churches for Middle East Peace.
William Zartman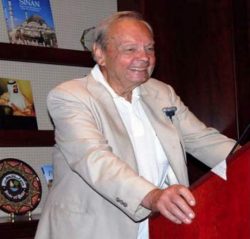 William Zartman is the Jacob Blaustein Distinguished Professor Emeritus of International Organizations and Conflict Resolution at SAIS and a senior fellow and member of the International Steering Committee of Processes of International Negotiations (PIN) Program formerly at Clingendael, Netherlands; he is also a member of the International Academic Advisory Council on Mediation of the UN Department of Political Affairs. He is the author and editor of such books as Preventing Deadly Conflict (2015), Arab Spring: Negotiating in the Shadow of the Intifada (2015), The Global Power of Talk (2012), Negotiation and Conflict Management; Essays on Theory and Practice (2010); Cowardly Lions: Missed Opportunities to Prevent Deadly Conflict and State Collapse (2005); Rethinking the Economics of War: The Intersection of Need, Creed and Greed (2005), and Ripe for Resolution (1989). He is former president and founding Executive Secretary of the Middle East Studies Association, founding president of the American Institute for Maghrib Studies, founding treasurer of the West Africa Research Association, and past president of the Tangier American Legation Institute for Moroccan Studies. He received his doctorate from Yale and an honorary doctorate from the Catholic University of Louvain, a lifetime achievement award from the International Association for Conflict Management, a distinguished fellow award from the US Institute of Peace, a distinguished honoree award from CIGI, and a distinguished scholar award from the Peace Section of ISA, and is Commander of the Moroccan Ouissam Alawite. He is LCDR in the US Naval Reserve (ret).